Battery Cage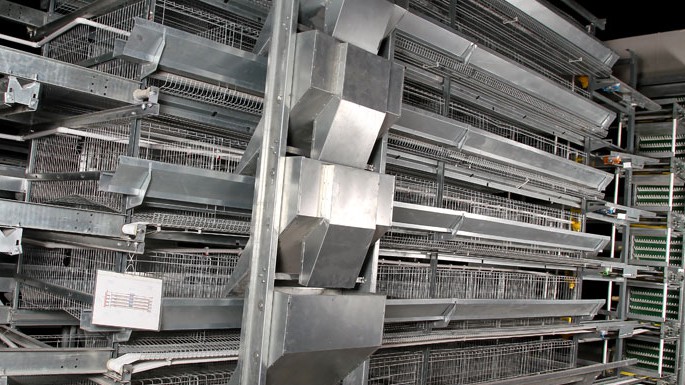 H Type Chicken Cage
H type battery cages for sale!H type layer chicken cage, h type broiler cage, and H type chicks cages. Hot-dip galvanized, long-lasting poultry cages help farmers save cost in pace, time, energy. Free...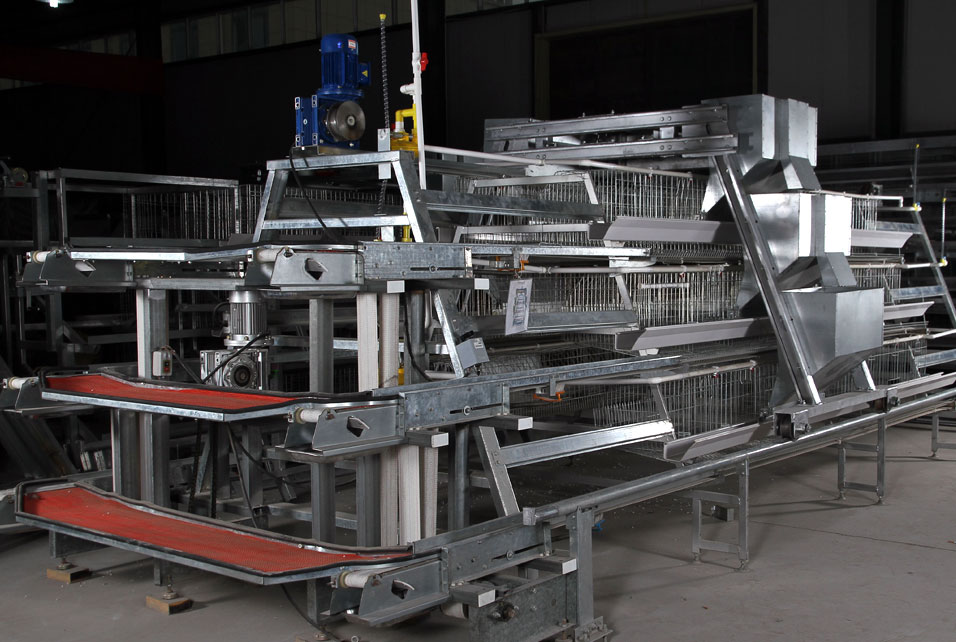 A Type Chicken Cage
Buy A type layer cage uses high-quality material that serves 20-30 years. 3 or 4 tiers A type chicken cage raising 90-160 birds. Hot-dipped or cold galvanizing. Free quote!...
Product overview
A battery cage is a usual name that primarily refers to chicken cages for laying hens, though it is also used for housing other poultry. Small identical cages are connected in rows and stacked in columns that resemble the cells of a battery unit. The battery cage system serves intensive chicken rearing and aims at increasing egg production. In the modern poultry farming industry, battery cage has developed not only for layers but also for broilers, brooders (baby chicks), pullet. FAMtech manufactures battery cages for layers, broilers, brooders, pullets with advanced machines. To meet different demands, the A type battery chicken cage and H type battery chicken cage are both supplied.
The battery cage shows superior performance in providing a hygienic chicken-raising environment.
Greatly reduces the disease of chicken which resolves the problem chicken growers are mostly concerned about.
Avoid egg eating and lessen the egg broken rate.
Reduce the death rate of chicks and broilers.
Lower investment in poultry farming in the perspective of labor and time.
Get more profit by growing more chickens and getting more cycles of eggs and meat in a limited area.
Battery cage for layers
Among all chicken cages, the battery layer cage is the hottest sale type. The ready-to-lay hens are easy to rear than baby chicks and the return on investment is great. The battery cage for layers manufactured by FAMtech has the following features.
Scientific design
The layer cages for sale are designed with a gentle slope (8°)from the back to the front to help the eggs roll out.
The eggs won't break since there is an egg tray outside the cage.
The feeding trough is designed with a round bottom which reduces the waste of feeds.
The opening style of the cage door can be pull-up or slide which is convenient for moving chicken.
Strong structure
The cage mesh, the frame, supporting legs are all made from international stand Q235A steel.
Feed troughs are made with 100% new raw materials. PVC or hot galvanized steel materials are both available.
The reinforced bottom mesh of H type layer cage provides better support.
A type layer cage
Features of FAMtech A type layer cage
Simple structure and easy operation and maintenance.
Saving more cost than H type layer cage.
Easy to deliver install and remove.
Easy to control parasitic diseases like coccidiosis and worm infestation.
Greatly avoid feed wastage due to the feed trough being designed with a round bottom.
The ventilation is much better. The chicken manure collecting and cleaning are easier.
There's nearly no overlap area and the manure from each deck can directly drop to the bottom ground or belt.
H type layer cage
Features of FAMtech H type layer cage
Takes less floor area and saves more place since the H-type layer cage is vertically overlapping.
Saves labor and time due to the automatic feeding, watering, manure removal, and egg collecting.
A conveyor belt is used for the manure removal which is cleaner than scraper type manure cleaning.
The cage is designed bigger to accommodate more laying hens.
Stronger bearing capacity and longer service life.
The whole cage is manufactured with a hot-dip galvanized process. The H type layer cage is mainly composed of the frame structure, more frames are applied to strengthen the hardness and braced force.
Thicker wire for the cage door.
The bottom mesh is reinforced with a wire drawing.
Battery cage for broilers
The
broiler cages for sale
also offer A type and H type. It is suitable for farmers raising chickens for meat production purposes.
Advantages of battery cage for broilers made by FAMtech
The rearing number of broilers depends on the size of the cage which can be customized according to clients' requirements.
The high density of chicken rearing can use the space of poultry houses to the greatest extent.
The productivity is increased thanks to the scientific design.
The cost is saved because of the high automation of feeding, watering, manure removal.
The rate of chicken death and disease is less since breeding and climate control provide healthy and hygienic growing houses.
The floor is made of imported PP material, which is soft and not deformed. It effectively reduces the incidence of leg problems.
A type broiler cage
A type broiler cage has a similar appearance to A type layer cage. The differences mainly lie in the bottom of the mesh which is flat and the size of each section of the net.
H type broiler cage
More and more customers choose H type broiler cages to raise the chicken for meat production. The features of H type broiler cage are listed below.
A spring-loaded cage door or fully open cage door makes the move and harvesting easy.
Easy access to clean water both for day-old chicks and bigger broilers by using the adjustable drinking pipe.
Easy to get feed for day-old and growing broilers due to the use of height-adjustable trough baffle.
No stuck of chicken head since the space of net is left enough.
A climate control system provides appropriate temperature and humidity.
The automatic conveyor belt of manure cleaning decreases disease and mortality.
Battery Brooder Cages
Battery brooder cages are also called
chick cages
. It is suitable for one-day-old to 7-8 weeks old chickens. FAMtech offers multiple-choice cage specifications. Don't hesitate to contact us for more detailed information.