Pan Feeding System
The pan feeding system is composed of a hopper, a conveyor tube, an auger, several pan feeders, a suspension lifting device, a driving motor, and a feed sensor, etc. parts. The main function of the system is conveying the feed from the hopper to each pan feeder for chickens. The automatic operation of the system is realized by the feeding level sensor to control the work or stop of the motor.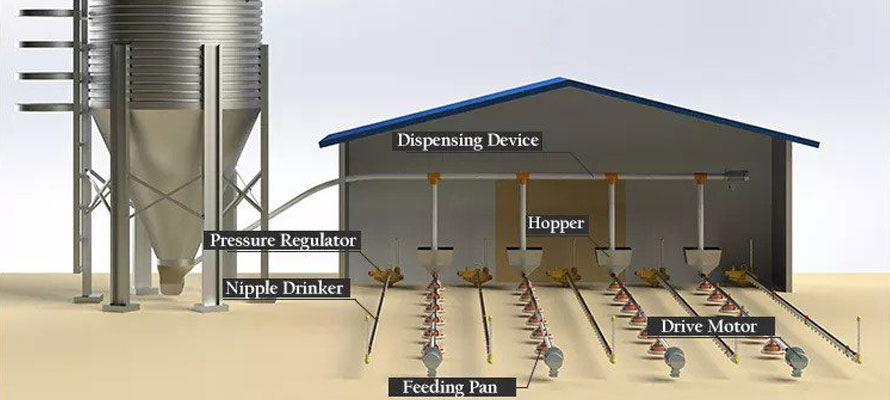 FAMtech has been supplying the automatic chicken feeding system for more than 20 years. The automatic control box is equipped with a feed sensor at the inlet which greatly improves the conveying accuracy. The whole feeding pan system is automatic and runs smoothly. Each feed pan is filled efficiently to make sure the chicken gets food instantly.
Features of FAMtech pan feeders for poultry
highly automated can save labor and cost.
PP(Polypropylene) material, firm and durable, corrosion resistance, long service life.
The V-shaped feed pan can decrease the surplus of feed to ensure the freshness of food.
The edge of the feed pan is slanted towards the middle to avoid spilled feed causing waste.
Adjustable of feeding height to satisfy the needs of different stages of the chicken growth.
A smooth inward sloping outer edge prevents crop damage and provides comfort eating for chicken.
Component of poultry pan feeding system

Part
Specification
Motor
Taiwan brand
Protection class: IP55
Power: 0.75kw/1.1kw
Rate voltage: 380v/220v/110v three phase/single phase frequency: 50HZ/60HZ
Sensor
Imported from Germany or made in China
Spiral conveyor
Diameter: 36mm
Imported from South Africa
High carbon manganese steel
Vice hopper
Size: 60 60/80 80
Material: hot-dip galvanized sheet
Feeder
Diameter: 330mm
Material: PP
Grids: 14/16
Feeding quantity: 40-50 chickens per pan
Pulley
Material: cast iron
Diameter: 9cm
Winch
Material: cast iron
MRS3000
Steel wire rope
Diameter of rope: 5mm, 3mm, 1.5mm
Delivery pipe
Feed pipe: 3/4 holes per 3m
Diameter: 45mm
Material: galvanized sheet with coating 275g/m2
Thickness: 1.2mm
Control box
Control pan feeding system
Details of the automatic pan feeding system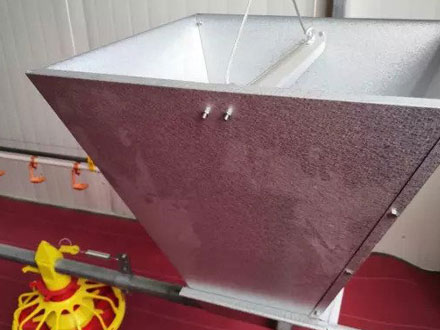 hopper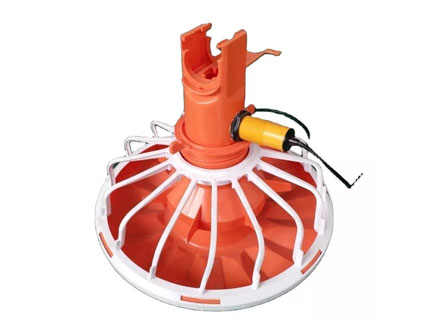 feed pan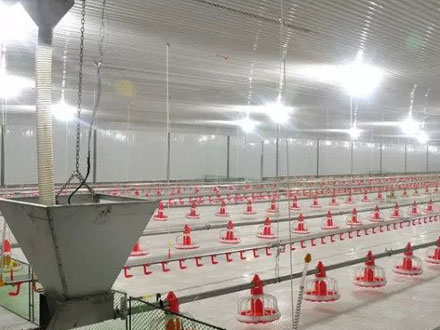 pan feeding system project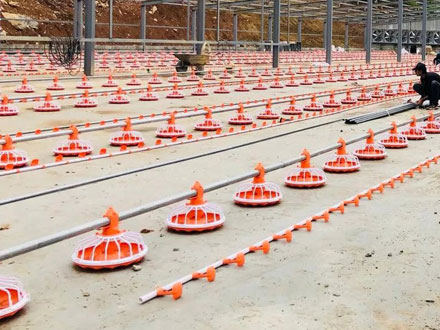 pan feeding system installation