Poultry Drinking Systems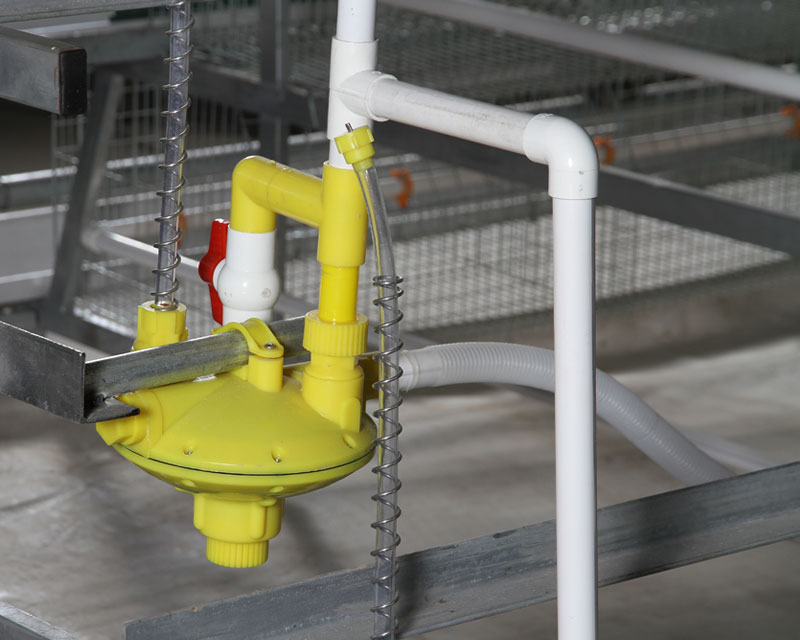 In the chicken cage system, feeding and drinking directly affect the growing status of baby chicks, broilers, pullets, and layers. It is essential to provide chickens with fresh, clean, and easily available water. FAMtech provides an automatic drinking system for poultry with optimum quality. The system can prevent water from mixing with other food and avoid the breeding of bacteria. The drinking water is directly transported to each chicken cell through the pipe network in the house. Both the breeding quality and economic benefits are obtained.
Components of poultry drinking systems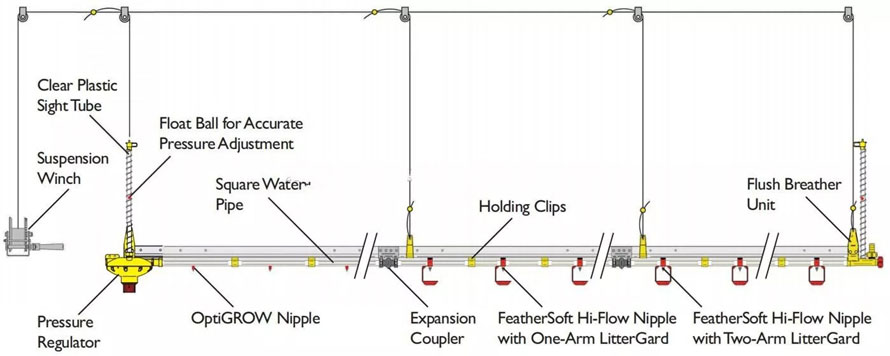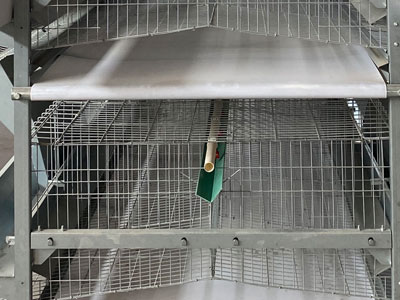 Water pipe
PVC round or square pipe is placed in the middle of each tier of each cage. This design can make chicken reach the water easily and save space.

Water trough
A V shape water trough is placed under the water pipe. When chickens drink water from the nipple, the dropped water will be collected in the trough and the chicken manure below cages won't get wet.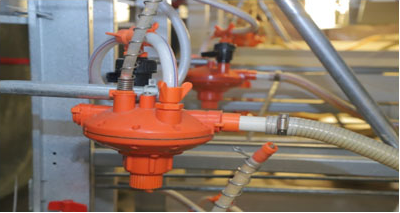 Pressure regulator
Automatically water supply pressure regulation ensures there is no stagnating.
The self-flushing function can add pressure to the inner part of the nipple drinker and clean it up.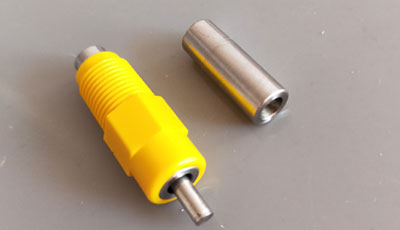 Nipple Drinker
Nipple drinker with or without drip cup can be chosen.
Famous brand nipple drinker for chicken 100% passed the quality test. There is no leakage.
The nipple drinker is made of stainless steel and plastic which has a long service life.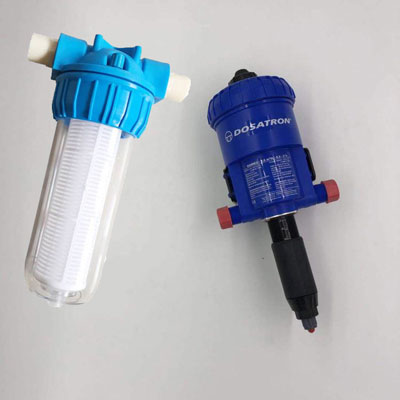 Water filter
Designed sewage remove all the dirty easily.
High impact plastic and transparent ABS offers durable quality and easy filter status checking
No leakage output and input design suitable for 25mm pipe
Easy to maintain by plastc wrench
Medicator
Powered by water flow, no electricity is required.
The automatic proportion of dosing and mixing is not affected by the fluctuation of water flow and pressure.
Quantitative dosing and mixing functions.
Easy installation and maintenance.
Advantages of automatic poultry drinking systems
The material of the chicken nipple drinker is corrosion resistant. The parts are made from stainless steel, hot galvanized steel, or special compound PVC.
360 degrees of watering helps easy drinking for both baby chicks and grow-out chickens.
Suits for specific climate and house conditions and supply adequate water.
Farmers can maintain a lower drinker line-height to accommodate variations in bird size while keeping cage and litter dry.
The automatic poultry nipple drinking system is specially designed for self-cleaning.