Chick Cage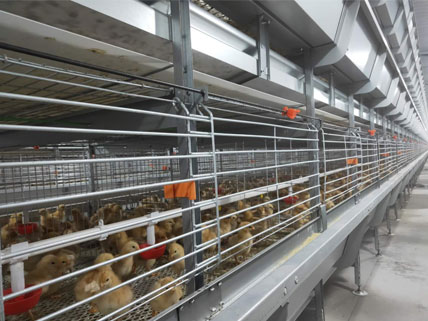 Product: A type chicks cage, H type chicks cages
Tiers: 3-6 tiers or more according to customer's requirement
Material: Hot galvanized, cold galvanized
Application: small,medium, large size chick house
Lifespan: Last 20-30 years
Sales volume: Customers cover 80+ countries
Certificate: ISO9001, CE, SGS, SONCAP
Product Overview
Chicks cages are one type of chicken cage or battery cage designed for baby chicks from one day old to 7-8 weeks. This period is called the brooding period which lays the foundation for the subsequent feeding phase in the pullet cage and layer cage. The brooding is the most critical period in a chicken's life. At this stage, the small chickens need to be reared carefully to reduce mortality. FAMtech provides brooder cages and associated equipment that can improve the growing environment for chicks to get desired economic result.
Advantages of FAMtech chicks cages for sale
Save cost because of accommodating more birds and the centralized management.
More moving space for each baby chick.
Higher survival rate and uniform growing status of chicks.
The service life of FAMtech chicks cages is at least 20 years.
The Io T (Internet of things system) monitors the environmental parameters, production parameters, and equipment running status of the chicken house in real-time, and has a multi-channel alarm.
A type baby chick cages
A type baby chick cage is suitable for small to medium-scale chicken farms with no more than 25000 chickens. The structure of A type brooder cage is like a ladder. The most common brooder cage is 3-4 tiers. Each tier has the same number of cages on both sides. A feeding trough is placed on both sides. A type 3 tier is sold more because it is difficult for a 4 tier cage to do the epidemic prevention. What's more, the height of the 4 tier chicken cage is not good for the stable running of the feeding machine. If the customer needs a feeding machine, 3 tier A type brooder cage is advised.
Details of A type baby chick cage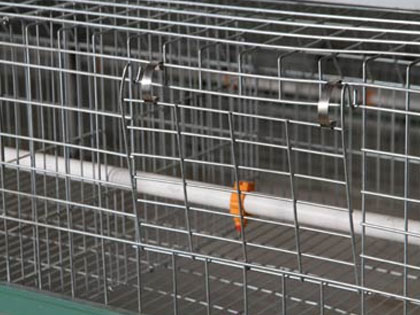 strengthened cage door
feeding trough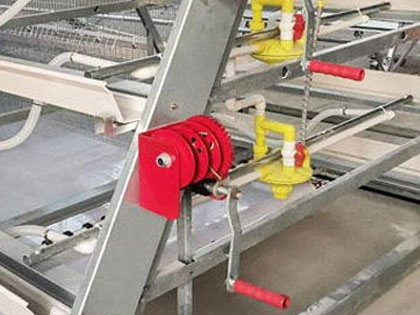 hand operated water pipe
automatic feeding
Thicker cage door with spring which can be easily opened.
Soft and dense bottom net comfort the feet of baby chicks and reduce chest disease.
Drinking nipples and cups make sure chicks get clean water at ease.
A hand-operated water pipe can flexibly change the height of watering.
Manure cleaning is easier because it drops directly on the bottom belt.
Specification of A type baby chick cages
| Tiers | Cell Size (mm) | Set Size (mm) | Chicken Capacity |
| --- | --- | --- | --- |
| 3-tier | 610*500*350 | 1830*2300*1500 | 126 |
| 4-tier | 610*500*350 | 1830*2365*1700 | 168 |
H type baby chick cages

H type baby chick cages are suitable for large-scale closed chicken farms. It is recommended for poultry farms rearing over 25000 birds. As a typical battery cage, H type chicken cage is well accepted by more and more livestock farms. The vertically stacked cages save more floor space, increase rearing number, reduce cost in manpower and management and eventually bring considerable profit for chicken growers.
Details of H type brooder cages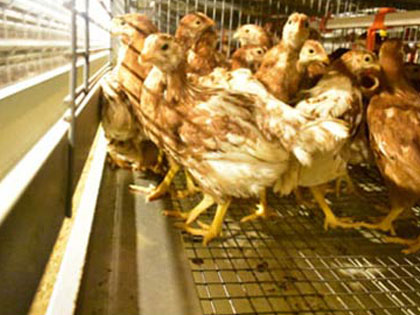 feet pedals when eating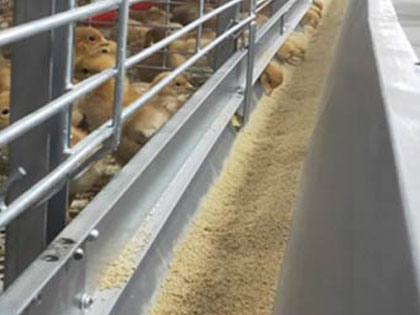 adjustable feeding baffle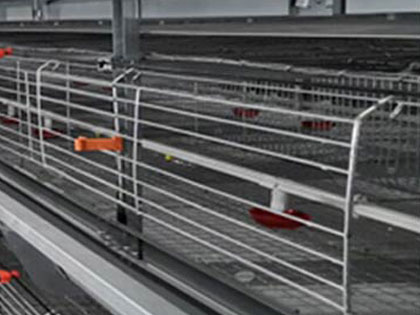 sliding cage door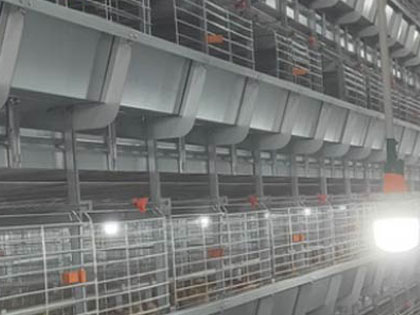 heightened space between decks
The cage is built with Q235 steel, 275g galvanized wire mesh.
Cage frame and plate use 275g hot-dip galvanized sheet materials of great corrosion resistance.
U-shaped steel bar, self-tapping screws make the cage strong and stable, easy to clean.
Cage doors can be easily opened with one hand.
An adjustable baffle was implemented in the inner side of the feeding trough.
The baffle can be moved up and down to form a suitable feeding height for chicks at different growing stages.
A feet pedal is installed at the front of the bottom net provides a good feeding environment for chickens, ensuring the feeding effect and growing quality of baby chickens.
Hot water pipe laying at the bottom of the cage reduces the temperature differences between decks.
Adjustable drinking line equipped with cups guarantee uninterrupted water for chicks.
The ventilation is good with 680mm height from the bottom mesh of the lower cage to the bottom of the upper deck.
Specification of H type brooder cages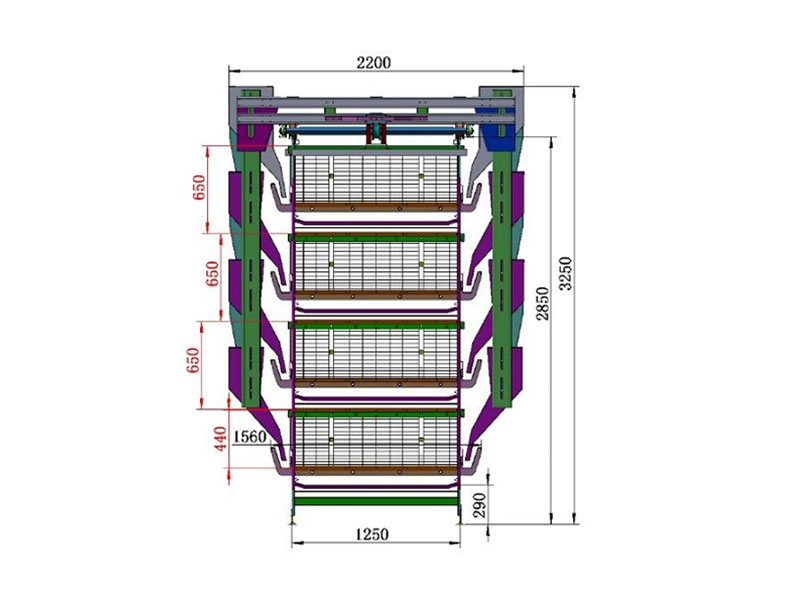 | | | |
| --- | --- | --- |
| Tiers | 3 | 4 |
| Capacity/set | 72 | 96 |
| Area/bird (cm2) | 442.7 | 442.7 |
| birds/door | 12 | 12 |
| door/deck | 2 | 2 |
| size/cell (cm) | 85*62.5*43 | 85*62.5*43 |
| size/set (cm) | 170*125*285 | 170*125*325 |
| height between tiers(cm) | 65 | 65 |
Auxiliary equipment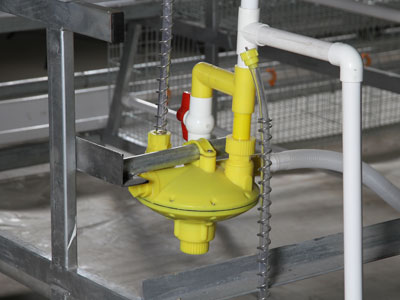 automatic drinking equipment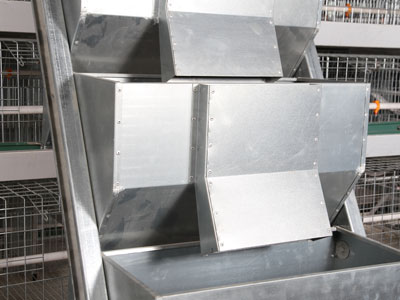 automatic feeding machine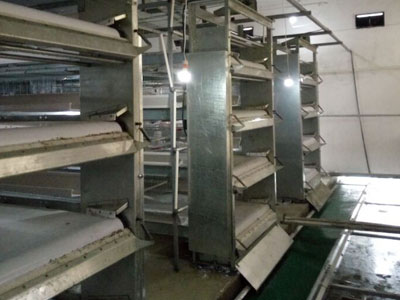 automatic manure removal equipment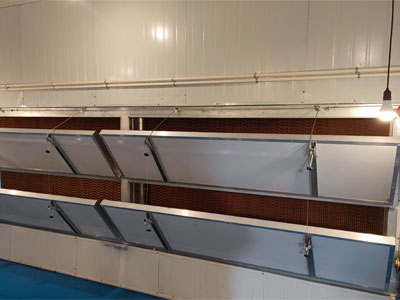 ventilation equipment