Pullet Cages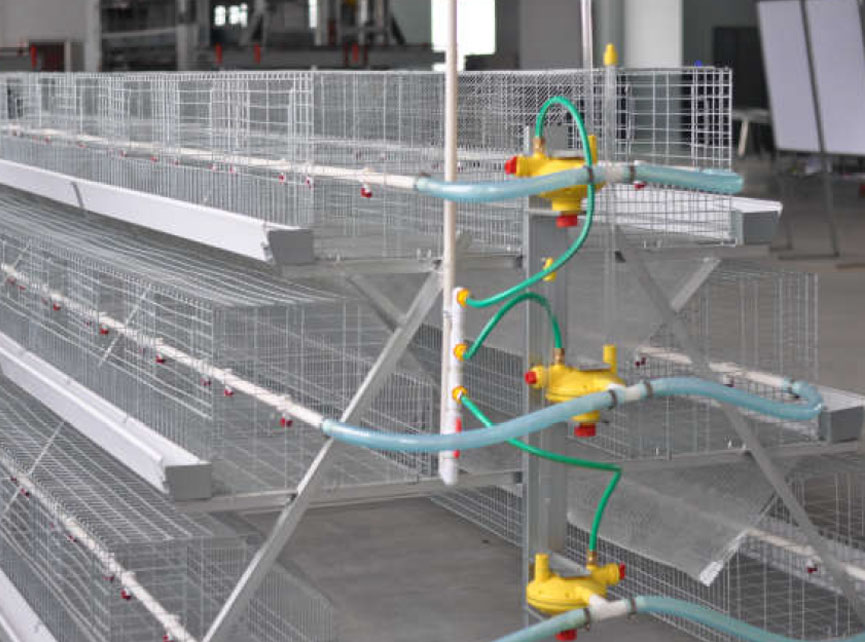 Product: A type pullet cage, H type pullet cages
Tiers: 3-5 tiers or more according to customer's requirement
Material: Hot galvanized, cold galvanized
Application: young hen before laying
Lifespan: Last 20-30 years
Sales volume: Customers cover 80+ countries
Certificate: ISO9001, CE, SGS, SONCAP
Product Overview
A pullet is a young hen, especially one less than one-year-old, and has not started laying eggs yet. As a typical type of chicken cage, pullet cages can hold pullets from the chick stage to the grown stage for about 90-100 days and then transferred to layer cages to lay eggs. The pullets must get careful breeding to be ready for the later egg production. The better the pullets grow, the higher the egg production rate. As a result, chicken farmers can achieve an ideal ROI.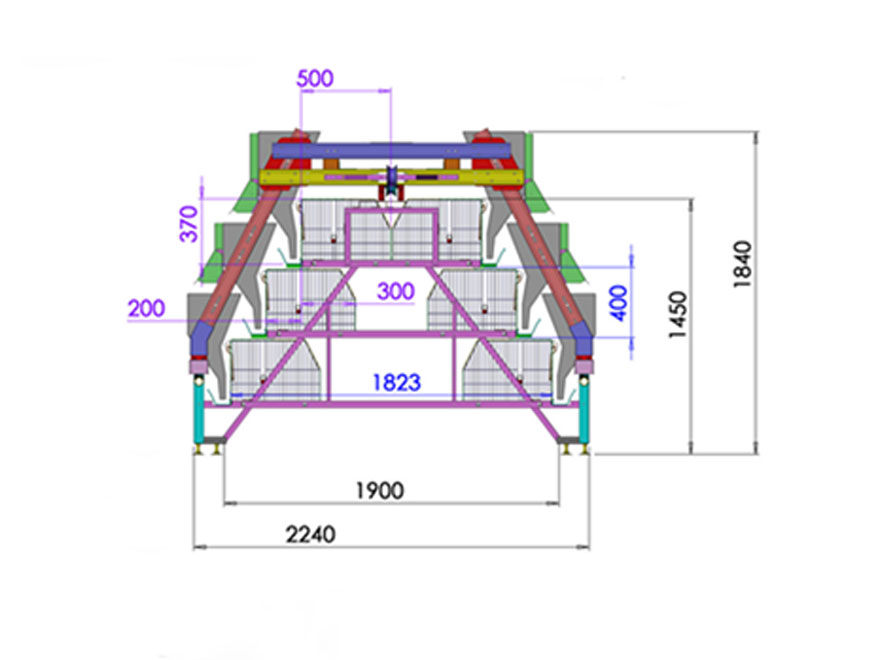 A type pullet cage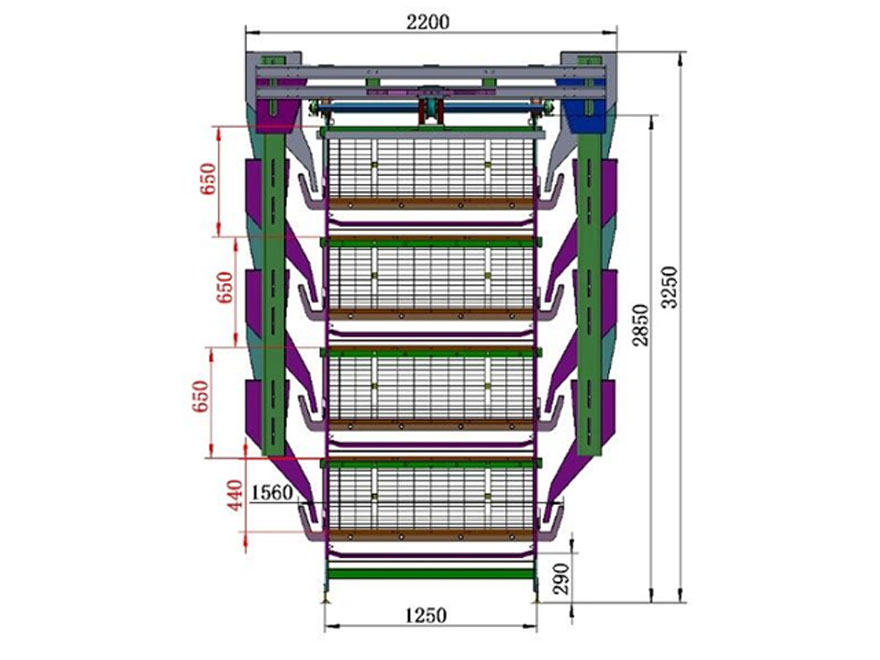 H type pullet cage
A Type Pullet Cage
A type pullet cage is suitable for chicken farms that rearing birds less than 25000. Compare to H type pullet cage, it is a more economic choice. The manure removal system can be manually operated to save cost. The feeding machine also has multiple choices to lower the cost.

Cage door
The cage door is loaded with spring and easy to open and closed tightly. Observing and catching is easy, chicken run or head stuck is avoided.
Bottom Net
There is a plastic net placed on each cage to provide comfort standing and eliminate chest disease.
Feeding & drinking
Gantry type and traveling hopper type automatic feeding systems reduce waste.
360 ° nipple drinker and drip-proof cup save water waste and provide clean water for the chicken all the time.
The water pipe can be moved up and down by a hand-operated rod. This makes pullets easy to drink at all growing stages.
Manure Cleaning
Clients can choose to use a scrapper machine or belt conveyor to deal with the manure. A ditch is needed when using the scrapper machine.
Specification Of A Type Pullet Cages
| | |
| --- | --- |
| Product | A Type Pullet Cages |
| Application | Poultry Farming |
| Warranty of core components | 1 Year |
| Weight | 50KG |
| Accessories | water tank, nipple drinker, leg support, frame, water pipe |
| Surface treatment | Cold Glavanized, Hot Glavanized |
| Capacity | 126 / 168 /210 Birds |
| Cage Size | 1830*2300*1500cm |
| Cell size | 61*50*37cm |
| Tiers | 3/4/5 tiers |
H Type Pullet Cage
H type chicken cage can raise more pullets than the A type chicken cage. It is especially welcomed by the farmers who have limited construction space for the chicken house. The associated poultry farming equipment must be automatic to guarantee the high efficiency of large-scale chicken breeding.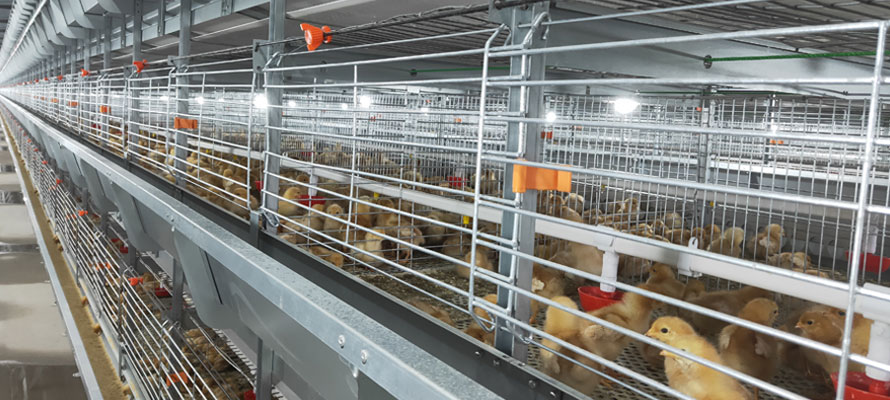 Material
Corrosion-resistant material is adopted to the whole cage. The hot galvanized process extends the service life up to 30 years.
Cage door
The sliding-type door is extremely convenient to open.
Feeding
The adjustable feeding baffle is placed to fit pullets at the early or later stage.
The feet pedal comforts the feet of pullets when eating.
Drinking
The height of the drinking line is easy to adjust to provide uninterrupted water for pullets.
Manure removal
Automatic manure removal system is adopted to solve the environment problem.
Specification Of H Type Pullet Cages
| Type | Capacity | Cage size (cm) | Cell size | Cell capacity | Door | area/bird (cm2) |
| --- | --- | --- | --- | --- | --- | --- |
| H type 3 tiers | 72 | 85*125*220 | 85*62.5*43 | 12 birds/cell | 1 | 442.7 |
| H type 4 tiers | 96 | 85*125*285 | 85*62.5*43 | 12 birds/cell | 1 | 442.7 |