A Type Chicken Cage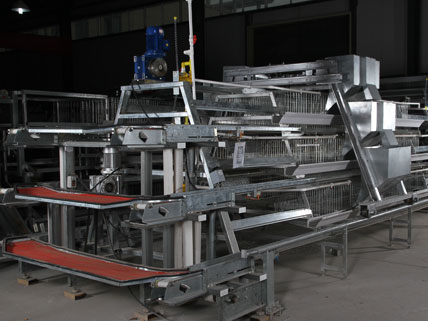 Product: A type layer cage, A type pullet cage
Tiers: 3/4
Capacity: 90-160birds/set
Material: Hot galvanized, cold galvanized (according to customers' requirement)
Application: small to the medium-sized layer house
Lifespan: Last 20-30 years
Sales volume: Customers cover 80+ countries
Certificate: ISO9001, CE, SGS, SONCAP
Get a Quote
Product overview
The A type layer cage is a very popular type of chicken cages for sale in the market at a relatively cheap price. It is a battery cage for layers suitable for small and medium-sized chicken houses (open, semi-open, and close type).The A type layer cage from FamTECH can be manufactured with cold galvanized or hot galvanized.
Cold galvanized
Lower price, shorter longevity(about 12years), smooth surface. African customers' first choice!
Hot galvanized
Relatively higher price than cold galvanized, longer longevity(at least 20years).
Due to the strong anti-corrosion, anti-rust properties, it's welcomed by humid regions such as countries from southeast Asia.
Tips for clients:
A method that can take durability and lower cost into account. The mainframe adopts cold galvanizing while making the bottom mesh with hot-dip galvanizing.
Advantages of FamTECH A type layer cage
Low cost and high breeding density
Compared with the H type chicken cage, the investment can be reduced. The breeding density is much higher than floor rearing.
Comfortable environment for laying hens
The ventilation effect is good to ensure that the layers in the cage will not suffocate due to excessive temperature.
The layers can obtain more feeding area and the egg production rate is approved.
Easy to disinfect, easy to control parasitic diseases and helminth infections.
Reasonable design, easy to operate
The A type chicken cages have a reasonable height and are easy to operate.
The door of the A type layer cage can be designed as an up and down opening or left and right opening.
The design of the extended groove edge reduces the waste of feed and improves the effective conversion rate of feed.

Easy to maintain
Easy maintenance in the event of a power outage or malfunction.
High automatic degree
Automatic feeding, drinking, manure removal, and egg collecting system reduce labor and time. (manual and semi-automatic type is also offered)
Long service life
The cage uses Q235 double cold galvanized bridge steel as raw material with a service life of 20 to 30 years.

The cage net adopts the hot-dip galvanizing process, which is corrosion-resistant and has a long service life.

The frame uses Al-Zn material (over 185-350g per square meter) which exceeds other products on the market.

The steel tube of the supporting leg is 25*40mm which is stronger than many other similar products.

Specification of FamTECH A type layer cage

| Type | Capacity | Cage size (cm) | Cell size | Cell capacity | Door | area /bird(cm2) |
| --- | --- | --- | --- | --- | --- | --- |
| A type 3 tiers | 90 birds/set | 195*230*150 | 39*41*41 | 3 birds/cell | 5 doors | 533 |
| A type 3 tiers | 96 birds/set | 172*230*150 | 43*41*41 | 4 birds/cell | 4 doors | 440.75 |
| A type 3 tiers | 120 birds/set | 195*230*150 | 37*41*41 | 4 birds/cell | 5 doors | 399.75 |
| A type 3 tiers | 120 birds/set | 215*230*150 | 43*41*41 | 4 birds/cell | 4 doors | 440.75 |

| Type | Capacity | Cage size (cm) | Cell size | Cell capacity | Door | area/bird (cm2) |
| --- | --- | --- | --- | --- | --- | --- |
| A type 4 tiers | 120 birds/set | 195*230*150 | 39*41*41 | 3 birds/cell | 5 doors | 533 |
| A type 4 tiers | 128 birds/set | 172*230*150 | 43*41*41 | 4 birds/cell | 4 doors | 440.75 |
| A type 4 tiers | 160 birds/set | 195*230*150 | 37*41*41 | 4 birds/cell | 5 doors | 399.75 |
| A type 4 tiers | 160 birds/set | 215*230*150 | 43*41*41 | 4 birds/cell | 4 doors | 440.75 |

Chicken house layout for A type layer cage

Leave us a message including your chicken rearing numbers and your house space. FamTECH provides the free design of drawings. For your reference, the drawing of a chicken house of a 4-tier A type layer cage is below.




A type pullet cage




The A type pullet cage is designed for baby chickens from 1 week to 17 weeks old. Many chicken growers choose to use it in the open house without a climate control system. If it is installed in a closed environment, the ventilation and heating system are needed to improve the survival rate of the pullet.

Advantages of FamTECH A type pullet cage

An easy opening spring-loaded door makes easy observing and moving of pullets.
A pad is placed on the bottom mesh that provides comfort standing for chicks and avoids feet being stuck.
Easy to get feed and water. FamTECH uses a small cup instead of a pot to ensure the pullet gets clean water.
Height adjustable water pipe fits different growing stages of baby chickens.
The drinking system can either be automatic drinking nipple or manual drinkers for the early two weeks of a pullet.
Both the traveling hopper type and chain feeding system are available.
An automatic manure cleaning system.
Smart environment control system.

Specification of FamTECH A type pullet cage

| Type | Capacity | Cage size (cm) | Cell size | Cell capacity | Door | area/bird (cm2) |
| --- | --- | --- | --- | --- | --- | --- |
| A type 3 tiers | 126 birds/set | 183*230*150 | 61*50*37 | 7 birds/cell | 3 doors | 435.7 |

Accessories for FamTECH A type chicken cage

Automatic Feeding machine

Automatic feeding hopper

Gantry type feeding machine




Automatic drinking system

Automatic drinking system for layers

Automatic drinking system for pullet

Manure removal equipment

The general method of manure removal can be divided into two methods. One is using a scraper and the other is using a conveyor belt. More and more clients choose the second type since the water content in the manure is lower which makes the process of manure removal effective and clean.

scrapper manure cleaning

belt conveyor automatic manure cleaning

Egg collecting

FamTECH offers two kinds of egg collection machine. The platform type egg collection machine is an economic choice. The platform egg collecting machin is a separate part that can be connected to the chicken cage. Customers can choose whether or not to use it. The eggs from the egg collecting belt walk through a conveying trough connected to the frame and fall to the platform from the corner with a gentle slope. The surface and edge of the platform are covered with cushioning material to protect eggs from breaking.

The vertical type egg collecting machine is easy to operate and with high efficiency.The eggs are sent to the end of collecting belt and conveyed to the egg claws, and then goes down to the other side for collecting. They either can be collected by manual labor or by automatic chains to the egg room.

platform type egg collection machine

vertical egg collecting machine