Broiler Cage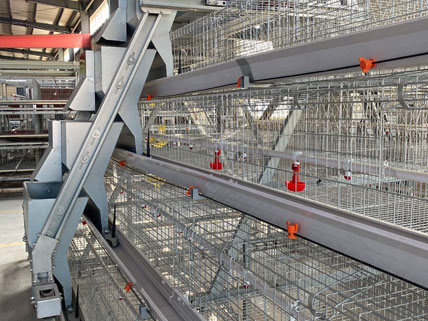 Product: A type broiler cage, H type broiler cage
Tiers: 3/4 tiers or more upon request
Material: Hot galvanized, cold galvanized
Lifespan: Last 20-30 years
Sales volume: Customers cover 80+ countries
Certificate: ISO9001, CE, SGS, SONCAP
Product Overview
As one important classification of chicken cage, broiler cage is used for rearing meat production purpose chickens. The chickens are kept in cages for growing between one day old to about 56 days for harvesting. The harvesting day can be early as 40-45 days if the weight and meat condition are up to market standard.
The broiler cage is designed to get a higher growth rate, reduce the time of breeding, make broiler chickens gain more weight. The average space of broilers is limited which forces the chicken to move less and brings a high conversion rate of feed. As a result, the weight of the broiler is increased as well.
Advantages of FAMtech Broiler cage for sale
FAMtech broiler cage has been improved after years of marketing practice to have a better meat ratio and survival rate.
The reasonable design of the structure, the durable material, the automatic feeding, manure cleaning, and the harvesting system all contribute to healthy growth and good meat result.
The various models and customizable services offer customers a great choice. No matter what scale of poultry farm you are running, there's always one broiler cage that suits you.
Free design of poultry house based on the field research.
Long-lasting service time is up to 30 years due to the first-grade material and manufacturing technique.
A type broiler cage

Structure
Q235 double cold galvanized anti-corrosion
Q235 national standard double cold galvanized bridge steel cage
white PVC feed trough
ball type automatic water equipment
white PVC pipe
3MM U type galvanized steel shelves
closed-end pressure-reducer
Al-Zn material feeding system
AL-Zn material manure cleaning system
ventilation system, lighting system
environment controlling system
Advantage of A type broiler cage
The high density of rearing.
Simple structure, easy maintenance.
Automatic drinking, feeding, manure cleaning can save time and labor.
Easy to repair when encountering fault or power failure.
Specification of A type broiler cage
| Tiers | Cell Size (mm) | Set Size (mm) | Chicken Capacity |
| --- | --- | --- | --- |
| 3-tier | 610*500*350 | 1830*2300*1500 | 126 |
| 4-tier | 610*500*350 | 1830*2365*1700 | 168 |
H type broiler cage
FAMtech offers different models of H type broiler cages to satisfy the specific needs of small-scale to large-scale chicken farms.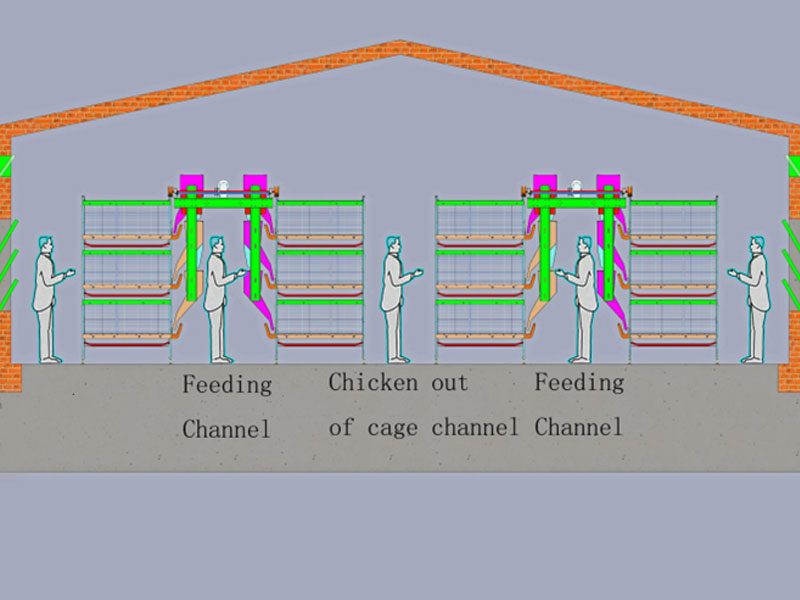 single side chicken out H type broiler cage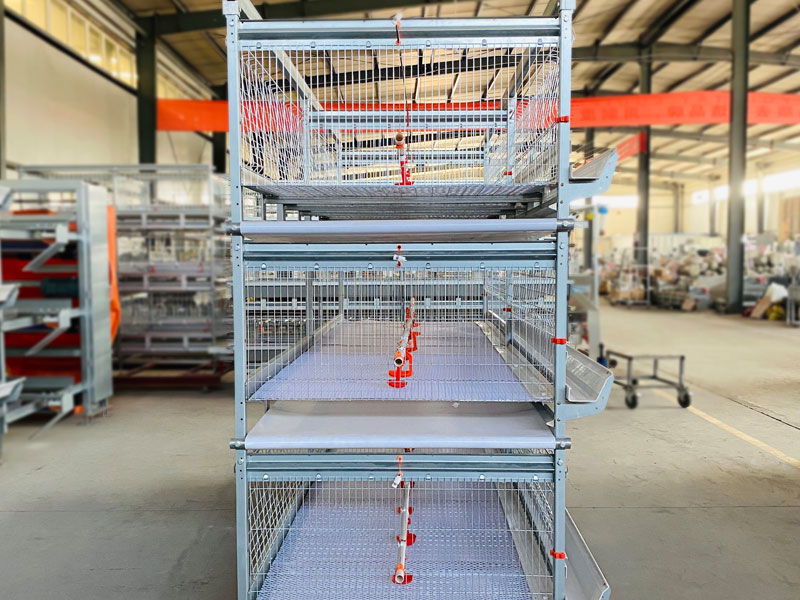 single feeding trough H type broiler cage with full opening cage door
Specification of single side feeding H type broiler cage
| | | |
| --- | --- | --- |
| Type | 3-tier | 4-tier |
| Capacity/set | 90 birds | 120 birds |
| Cage size(cm) | 150*100*220 | 150*100*269 |
| Cell size (cm) | 150*100*49 | 150*100*49 |
| Cell capacity | 30birds/cell | 30 birds/cell |
| Door | 1 | 1 |
| Area/bird (cm2) | 500 | 500 |
Advanced H type broiler cage with auto-harvester
If the number of broilers is above 25000, FAMtech suggests you use the Advanced H type broiler cage with an auto-harvesting system. It not only surpasses the flat rearing or A type broiler cage in the way of capacity but also has many other remarkable advantages.
Advantage of Advanced H type broiler cage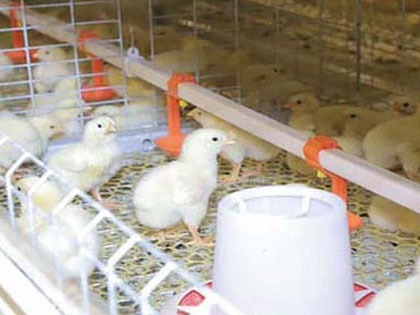 elastic bottom net
appropriate gap size of bottom net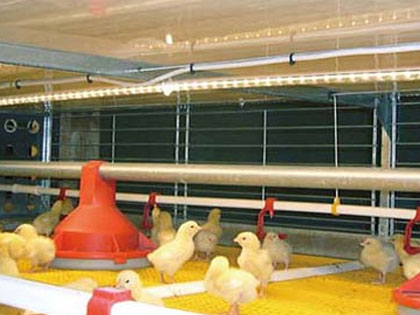 feed plate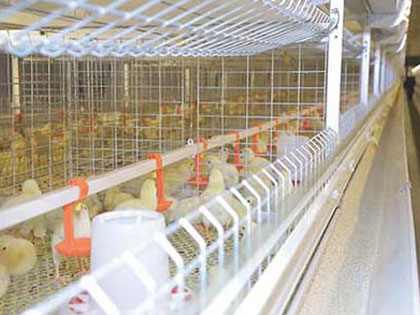 full open cage door
The broiler can grow on the strong, elastic, sanitary bottom net which can comfort their feet and effectively avoid chicken breast hematoma, reducing disease and mortality.
An appropriate size of the bottom net ensures the leakage of chicken manure and avoid manure accumulation on the net.
A specially designed feed plate can prevent feed overflow. Feed plate height can be adjusted as the growth of days.
Feeds are uniformly distributed within the feeding trough by the driving trolley.
The height of the feeding gate can be adjusted accurately.
Feeding pedals provide a comfortable environment for chicks.
The height of the water pipe can be adjusted up and down as the chicken grows.
Drip-proof cups and plates prevent water from falling onto the manure belt.
Light is an important aspect of chicken growth and feed conversion. The adjustable LED light source provides excellent lighting. LED lights are sustainable and consume less energy.
To simplify the process of catching chickens, we designed a plastic draw-out bottom net.The bottom net is pulled out, the broiler falls on the manure belt, and the The manure belt is transported to the chicken catching tray outside the house.
Specification of Advanced H type broiler cage
| | | |
| --- | --- | --- |
| Type | 3-tier | 4-tier |
| Capacity/set | 72 birds | 96 birds |
| Cage size(cm) | 160*125*285 | 160*125*325 |
| Cell size (cm) | 85*62.5*43 | 85*62.5*43 |
| Cell capacity | 12 birds/cell | 12 birds/cell |
| Doors | 2 | 2 |
| Area/bird (cm2) | 442.7 | 442.7 |